GALLERY
A few of the amazing images that will be shown:
In 2018, ChromaLuxe will have a major presence at the famous "Les Rencontres d'Arles" photo festival, the world's largest festival of the image. Our main exhibitions, including Patrick Willocq (see below), at the Manuel Rivera-Ortiz Foundation, are part of the associated program of the photography festival Les Rencontres d'Arles 2018.
ChromaLuxe prints will be exhibited in several galleries within the Manuel Rivera-Ortiz Foundation, located right in the centre of the city, and also at two other venues. The exhibitions will feature during the Opening Week of 2 - 8 July and then throughout the summer until the festival closes on 23 September.

What are ChromaLuxe prints?
The new solution for top quality fine art printing.
MANUEL RIVERA-ORTIZ FOUNDATION
18 Rue de la Calade, 13200 Arles
Patrick Willocq
The main exhibition on the ground floor of the Foundation is a deeply moving human story of two communities, French and asylum seekers, who, due to events beyond their control, are obliged to live together. An extraordinary presentation using art installations, video and ChromaLuxe prints.
Our exhibitions at the Foundation are part of the associated program of the photography festival Les Rencontres d'Arles 2018
Atelier SHL
18, rue de l'Hôtel de Ville, 13200 Arles
Galerie Huit Arles
8 Rue de la Calade, 13200 Arles
What are ChromaLuxe Prints?
ChromaLuxe prints are made using a dye-sublimation process. Sublimation onto metal is a new, cutting edge way to reproduce high quality photographic images. Ideal for stunning fine art photo exhibitions.
The image is printed onto transfer paper using sublimation inks. It is then positioned against the specially coated aluminium ChromaLuxe sheet and placed into a high-pressure heat press at 200°C. The inks transfer from the paper and are permanently infused into the coating. The result is a very high-quality photo print with vibrant colours and an almost 3-dimensional feel.
Substrates
Aluminium is available in Gloss, Semi-Gloss (Satin) and Matte surfaces. ChromaLuxe is also available on Steel, MDF and hardwood.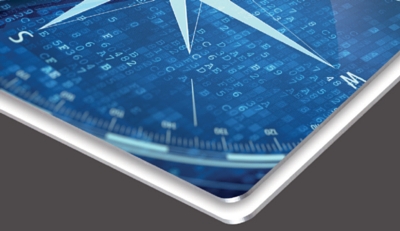 Where to get a ChromaLuxe print from YOUR image?
Atelier SHL
18, rue de l'Hôtel de Ville, 13200 Arles, France
If you are in Arles, visit top professional lab, Atelier SHL, less than 50m from the Manuel Rivera-Ortiz Foundation.
Scroll down for more news
Eran Gilat
Eran Gilat is an eminent neuroscientist and an avid Fine Art Photographer. His "Life Science" photography project reflects his long lasting confrontation with biological tissues, contemplating issues of materialism, erotica and mortality, corresponding with the complicated and intriguing category of "Animal Reminder" in the visual arts.
Galerie SHL
Visit the GalerieSHL at 21, rue de la liberté, Arles
Where to order a ChromaLuxe print?
How to get YOUR image printed on ChromaLuxe.
HOPE - A Collaborative Perspective
Journalism, photojournalism is about seeking truths, about perseverance in the face of human disaster and danger. We exist because we aim to hold mirrors unto the world, unto our elected officials, unto ourselves. It is a story about hope—the hope that we all become better when we are informed, we become wiser, better able to make decisions that benefit the most people the most times.
In this house, you will witness a collection about the hardships of men, of women, of his and her struggles and difficulties; their hopes, their truths, their aspirations, and inspirations—each told in ways unique. And all of us have a story to tell; an account of ourselves as having been here and having lived.
You will see you, your friends, your neighbors, not literally, but humanly represented.
This show is our greatest feat to date. One I hope you will enjoy and learn from it as much as we enjoyed and learned from it in bringing it forth to you.
Manuel RIVERA-ORTIZ
président & fondateur
/president & founder

After the success of 2018, we will be exhibiting again at Arles 2019 and working with Manuel Rivera-Ortiz Foundation.
Plans are being put together at the moment and we hope to start announcing more information in January 2019.
In the meantime, why not follow our Arles Instagram feed where we will post the latest news and information?