ChromaLuxe, the world leading brand of high definition sublimatable print media is very proud to be present at PHOTOKINA 2018 in Cologne.
In Hall 3.1 Stand D041-D049 ChromaLuxe will display a wide variety of vibrant high quality prints. Even more, ChromaLuxe presents the Masters on Metal Gallery where several fine art photographers and photolabs showcase their work.
​


What are ChromaLuxe prints?
The new solution for top quality fine art and photo printing.
What are ChromaLuxe Prints?
ChromaLuxe is a new art medium with unparalleled quality for photos and artwork. The inks are infused into specially coated aluminium plates. The resulting prints take on a magical luminescence with an almost 3-Dimensional effect. Because the image is infused INTO the surface and not on it,
the durability and life of the prints is unsurpassed.
Chromaluxe HD Panels
1.2mm Aluminium plates
Lightweight, making them easy to hang and transport
Stunning Colour
Exceptional colour gamut range
Colours that really stand out giving an almost 3 dimensional feel to the images
Durable
ChromaLuxe HD prints are unbelievably durable
Very difficult to scratch - you can even rub a coin on them with no visible damage
Whiteboard pens can simply be wiped off
Permanent marker pens and even paint can be removed!
100% Water resistant and even bleach resistant
Long Life
Tests by two independent labs have shown ChromaLuxe HD prints to be 3 times more durable than archival photo prints
Finishes
White Gloss is by far the most popular and dramatic of our finishes, it is an excellent finish for any subject, especially landscape or nature images, flowers, sports action photos,cars, water, etc.
White Gloss surface is also available on MDF panels.
White Semi-Gloss has a great satin look that offers the color brilliance and punch of the full gloss but with reduced reflection.
For portrait work, weddings or anytime surface reflection is a concern, the White Matte finish is a wise choice. This surface provides a rich, smooth finish where colors can come alive in a more subtle way than the gloss.
The same coating but without the white base, is called Clear-Gloss, allowing the natural silver of the aluminium to shine through. It is a special effect that works really well with high contrast black and white images, and images with strong colours and a fair amount of white area.
Just as the white-coated-range, the clear range is also available
in gloss, semi-gloss, and matte.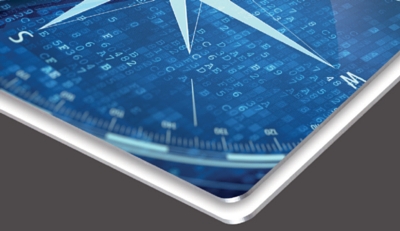 Where to order a ChromaLuxe print?
How to get YOUR image printed on ChromaLuxe.
Some of the featured artists are:
ChromaLuxe
A new standard in prints on metal​
Want to discover sublimation?
Feel free to visit our stand and experience the fine art of sublimation through our LIVE SUBLIMATION DEMOS